Bring the Power of Being Unbreakable to Your Audience
Book the expertise of Soribel Martinez for your event, podcast, tv show, or conference.
Speaking Topics & Expertise
Learn about inspired leadership and how it impacts the world. What is a leadership mindset and how can we develop one that aligns with our purpose, vision, and mission? Discover how in Soribel's inspirational talk, How to Develop an Unbreakable Leadership Mindset.
Navigate adversity, eliminate self doubt, learn to love yourself well, and surround yourself with others who believe in your dreams. Stop letting life happen to you, and create the life you were meant to live in Soribel's uplifting talk, How to Build an Unbreakable Life.
Business Development for Health and Mental Health Professionals in Private Practice
Learn Soribel's proven system, The 8 Pillars of Private Practice to build, and scale your business. Find out how you can create a private practice that supports your vision and revenue goals in Soribel's powerful talk, How to Build an Unbreakable Business.
This program guides participants to create the career they want no matter what field they work in. Participants will be inspired to take massive action, learn to handle conflict, stand up for what they want, and ask for what they deserve in Soribel's motivational talk, How to Build an Unbreakable Career or Profession
Books Soribel's published or been featured in.
Available for Bulk Purchase
Are you a leader, educator, corporation, university administrator, or speaker hosting personal or professional development events, such as: conferences, seminars, courses, etc.? And would like to provide your audience with additional resources to enhance your work.
You are at the right place…
Soribel Martinez offers her books, journals, and workbooks for sale in bulk at retail pricing so that you can provide your audience with additional empowering resources.
Contact Soribel for More Information!
Where Soribel's Been Featured
Podcast episodes and other media outlets where Soribel's recently appeared.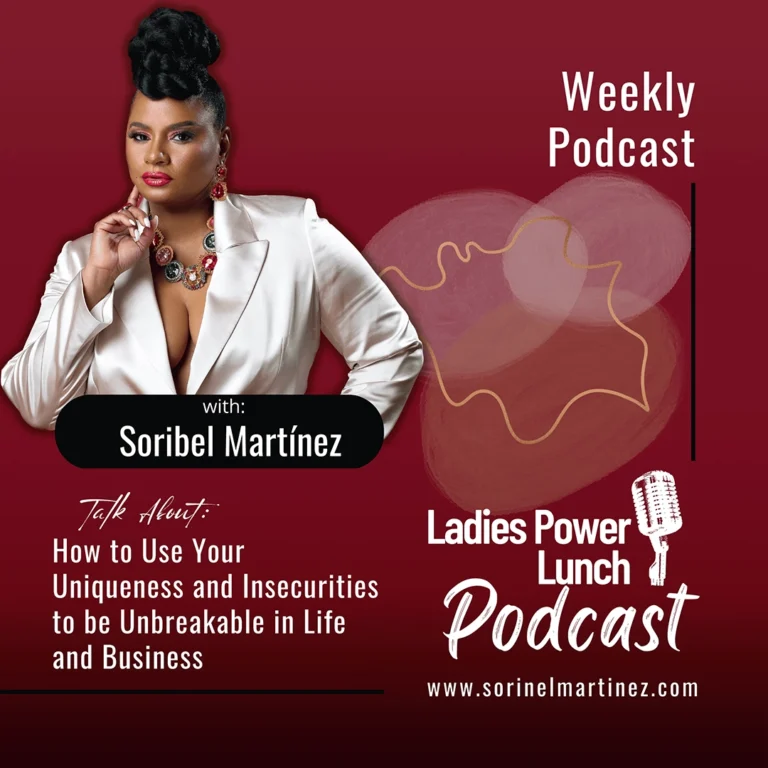 How to be an unbreakable leader? In life and Business? Find out from Special Guest Soribel Martinez. Soribel is a licensed therapist and a love, sex and relationship coach; she
Check Out The Feature »
"Soribel shares relatable stories that many of us experience and tells ourselves, frequently limiting our growth. She provides concepts and self-evaluations, prompting deep searching and healing that build resilience. Powerful! #unbreakable"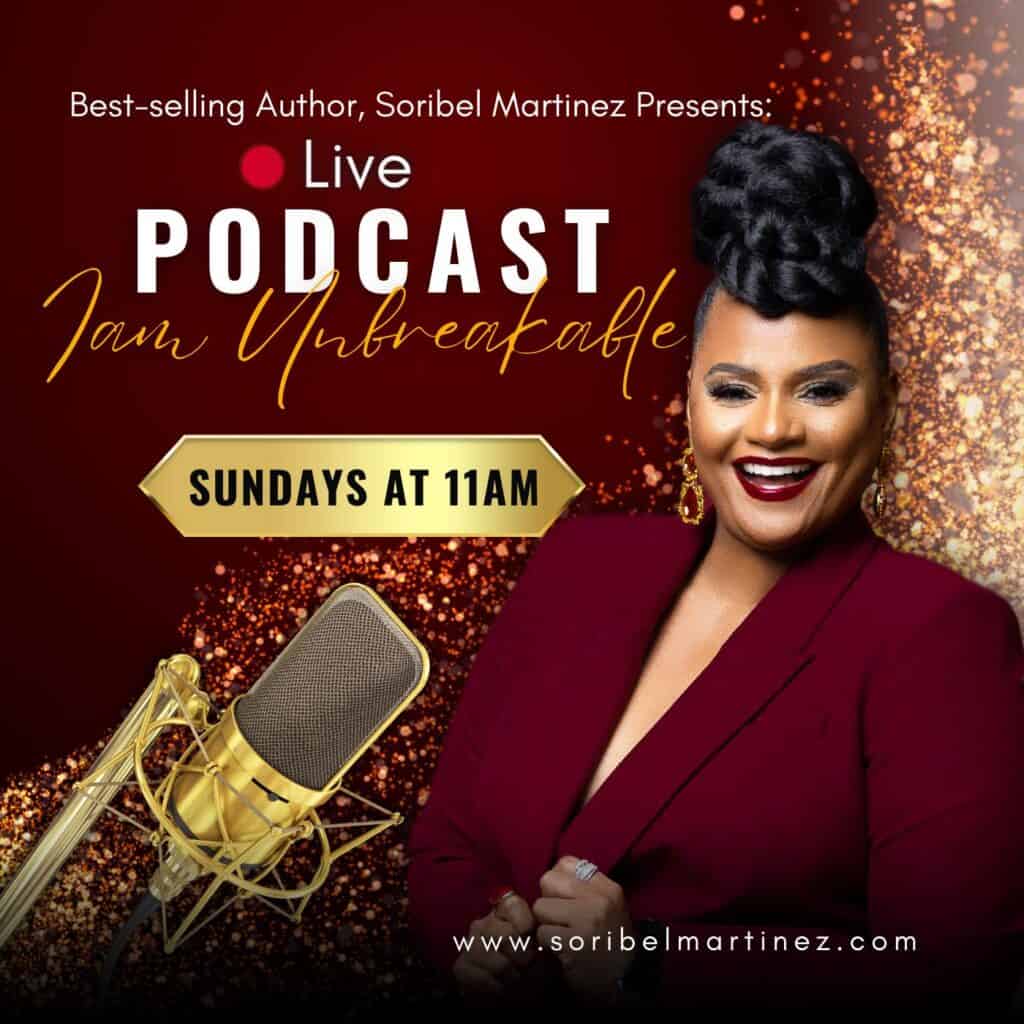 The I Am Unbreakable Podcast
Have the pressures of life, and the trials of adversity caused you to lose sight of your dreams?
I Am Unbreakable Podcast with Soribel Martinez, LCSW, you'll hear stories of hardship, triumph, and inspiration to help you connect to your true purpose in life.
With over 25 years of experience in the mental health field, Soribel's tools and strategies can help you overcome adversity, learn to manage your thoughts and emotions and create the life of your dreams.
Let's become Unbreakable in Life and Business together. Let's build a QUEENDOM Legacy together.
Social Following: 14,830 across all platforms.
Website Visitors: SMPsychotherapy and SoribelMartinez had over 50,000 visitors in 2022.
Email Campaigns: Currently reach 12,800+ people
Soribel is an authority on mental health, business, and personal development, but her presentations come across as inspirational and energetic instead of dry and academic. Whether she's presenting about personal development, mental health, or building a business, Soribel's unique voice and perspective on the intersection of life and business will leave listeners encouraged to move forward and take inspired, massive action toward their dreams.
Speaking Kit of Soribel Martinez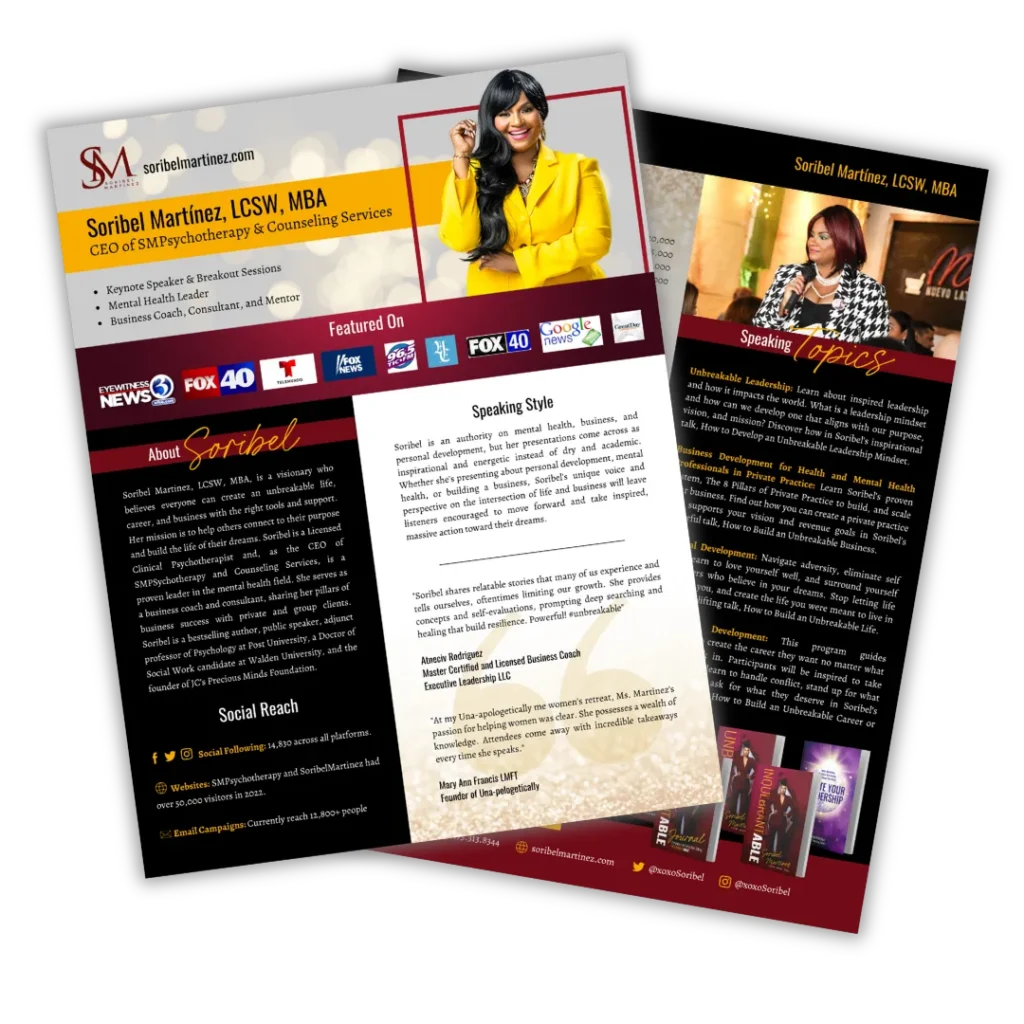 Download Soribel's Speaker One Sheet in PDF format by clicking the button below
Images of Soribel Martinez
1. Right click to open menu. 
2. Left click and choose save.

Or left click on the image to open the image lightbox. Use the arrows on the left and right side to scroll through other images. Click the X at the top right to exit the lightbox.
"Soribel teaches us how to look inward, reconnect with our inner wisdom, and create the life we were meant to live."
Introduction/Bio of Soribel Martinez
Soribel Martinez, LCSW, MBA, is a visionary who believes everyone can create an unbreakable life, career, and business with the right tools and support. Her mission is to help others connect to their purpose and build the life of their dreams. Soribel is a Licensed Clinical Psychotherapist and, as the CEO of SMPSychotherapy and Counseling Services, is a proven leader in the mental health field. She serves as a business coach and consultant, sharing her pillars of business success with private and group clients. Soribel is a bestselling author, public speaker, adjunct professor of Psychology at Post University, a Doctor of Social Work candidate at Walden University, and the founder of JC's Precious Minds Foundation.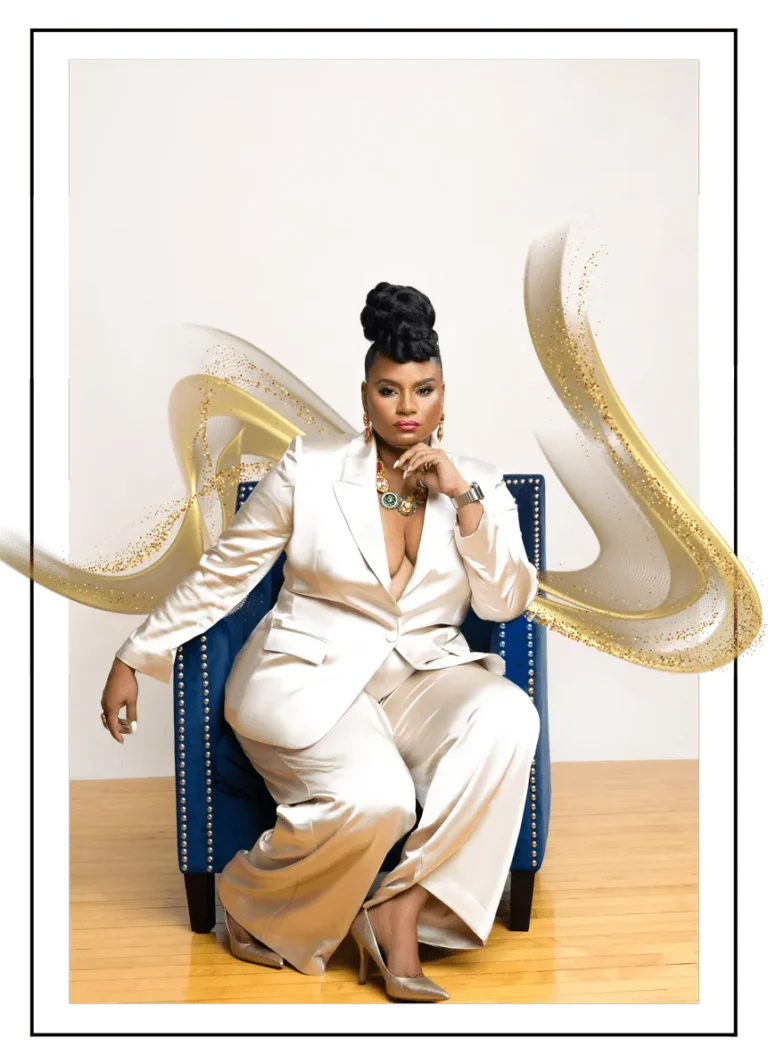 "At my Una-apologetically me women's retreat, Ms. Martinez's passion for helping women was clear. She possesses a wealth of knowledge. Attendees come away with incredible takeaways every time she speaks."
If she's not working to build her Queendom, Soribel is often dancing and traveling.
Soribel has 4 degrees and is working on her doctorate! Ask her about each of them, and why leaving medical school was one of the best decisions she's ever made.
Soribel believes we were each created for a purpose, and that aligning our work and life with that purpose is the path to fulfillment.
Choose the date you'd like to meet with Soribel and complete the following form to apply to book Soribel for your next event.