Soribel Martinez, LCSW:
Concierge Therapist and Sex Coach
You get to have the sex life you want – a sex life full of all the intimacy, pleasure, and orgasms you can dream up. Download the Intimacy Recovery guide here to get started on your journey to the best sex of your life.
Concierge Therapy
Your relationships, career, and physical health can suffer when you struggle with mental health issues. But, when you're a business executive or entrepreneur you don't have time to waste. Soribel offers concierge therapy services in Connecticut. Concierge therapy is therapy on your terms, your schedule, and in the location of your choice.
As a concierge therapist Soribel isn't limited by the red tape of insurance companies so she can completely customize programs to meet your needs. She offers concierge clients extended session times, individualized programming, and direct access via email or text so you never have to wait until your next appointment for support and answers to your questions.
Your privacy is guaranteed in concierge counseling sessions because, in addition to regular HIPAA guidelines, there's no need to share diagnosis codes with insurance providers. Soribel offers concierge therapy services for all your mental health concerns so you can get back to building your empire.
Soribel works with mental health concerns such as:
Anxiety
Depression
PTSD (Post-traumatic stress disorder)
Addiction issues
Stress Management
Relationship problems/couples therapy
Sex therapy/Recovery from sexual trauma or other trauma
Learn More About Concierge Services
Address all your mental health concerns in customized concierge therapy programs for women so you can continue building your empire.
Take care of your mental health so you can get back to the business of building your life.
Working with a concierge therapist is the choice for busy couples who want fast results.
Concierge Sexual Trauma Therapy
Heal your trauma so you can dive into the life you deserve.
Sex Coaching
Whether you're single or partnered your sexual health is an integral part of your overall wellness. For many individuals, shame, lack of experience, or lack of confidence keep them from enjoying sex with a partner, or mastrubation. Sexual issues in a partnership can exacerbate other relationship issues, and a lack of satisfying self-intimacy can cause issues with self-esteem. Working with a sex coach or sex therapist may help you address sexual health issues.
An experience at a sex toy party motivated Soribel to seek certification as a sex coach. When combined with her over twenty years of experience in the mental health field Soribel became an expert at helping clients reconnect with their sexual selves, get rid of shame and guilt, and embrace the pleasure that is their birthright.
Soribel helps men, women, and couples address sexual issues such as:
Sexless relationships
Pleasure-based education on human sexuality
Ejaculation or orgasm difficulties
Masturbation related anxiety, shame, or guilt
Problems with sexual desire/low libido/mismatched libido
Learning to have better sex that is both satisfying and intimate
Trouble with erectile dysfunction
Performance anxiety
Navigating open relationships or monogamy
Sex coaching provides accountability and support to help you create the sex life of your dreams. Soribel provides a non-judgmental, sex-positive space for you to share your story and learn techniques to improve your sex life.
Sex connects us to the most intimate and vulnerable parts of ourselves and others. Improving our sex lives often means healing from past trauma, enhancing our self-confidence, and overcoming feelings of guilt and shame related to our bodies. You deserve pleasure, you deserve intimacy, you deserve all the orgasms you want.
Learn More About Sex Coaching
Soribel's proven techniques will help you release sexual shame, reconnect with your feminine energy, embrace your desires, and have the sex life of your dreams.
Sex coaching with Soribel will help you address sexual health concerns in a judgment-free environment with proven techniques so you can have all the pleasure you deserve.
Learn to form deep connections with your significant other or to invite the loving, supportive relationship you want into your life.
Learn to set and enforce appropriate boundaries, communicate effectively, and stop losing yourself in relationships with friends, family, significant others, and in the workplace.
"Intimacy can take time to develop and reinforce that it's a key part of satisfaction in romantic relationships. If you're afraid of intimacy, you may avoid getting close to others, which means your sex life may be suffering."
Who is Soribel Martinez, LCSW?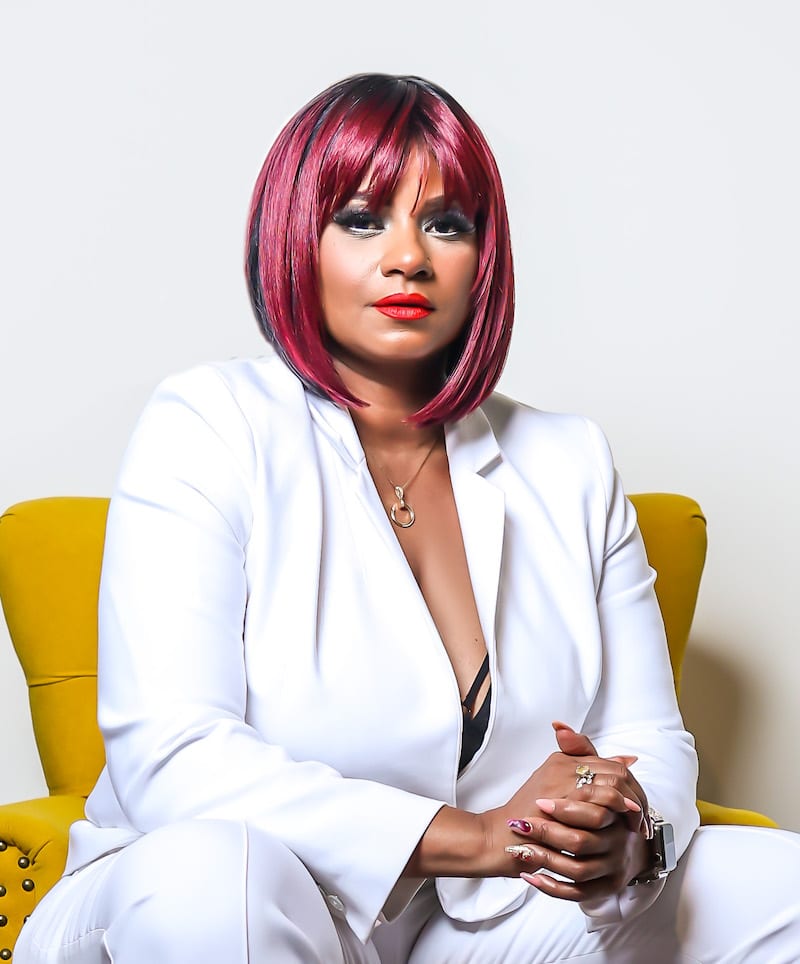 Soribel is a psychotherapist with over 20 years of experience in the mental health field who recently sought certification as a sex coach through the Institute for Sexuality. She's conducted therapy in schools, homes, and outpatient programs and is experienced working with people of all ages.
Soribel holds a master's degree in psychology and social work from the University of Southern California. She is the CEO of SMPsychotherapy & Counseling Services, and as a business owner, she understands the demands of building a business while trying to create fulfilling relationships.
Soribel's work as a concierge therapist allows her to take fewer clients than traditional therapists so she can offer you individualized attention as well as the latest techniques in psychotherapy and mental health care.
A life-long learner and lover of education, Soribel offers sex education and female empowerment programs to schools, businesses, and mental health professionals. She also works as an associate psychology professor at Post University.
Get your Intimacy Recovery Kit Today
Soribel put together an Intimacy Recovery Kit to help you get started on your journey to sexual satisfaction and deeper intimacy in your personal relationships. 
The Kit Includes:
The Intimacy Recovery Journal is designed to guide you through evaluating your intimate connections with yourself and others to start your healing journey (Valued at $97).
An Intimacy Recovery Coaching Session (Valued at $349) is a 30-minute session with Soribel to discuss your intimacy issues and goals. Soribel will give you practical tips for getting started and you'll learn if one of her programs is right for you.
Access to Soribel's Intimacy Recovery Masterclass (Valued at $333) – Soribel is an expert in human sexuality and psychotherapy which makes her an excellent facilitator of intimacy and sex education. You'll learn what true intimacy is, how to build it with yourself and with others, and strategies for solving intimacy issues that will improve the rest of your life.
The Intimacy Recovery Activation (Valued at $77): A bonus audio recording of the physical intimacy activation. You can listen alone or with a partner to learn how and where you like to be touched.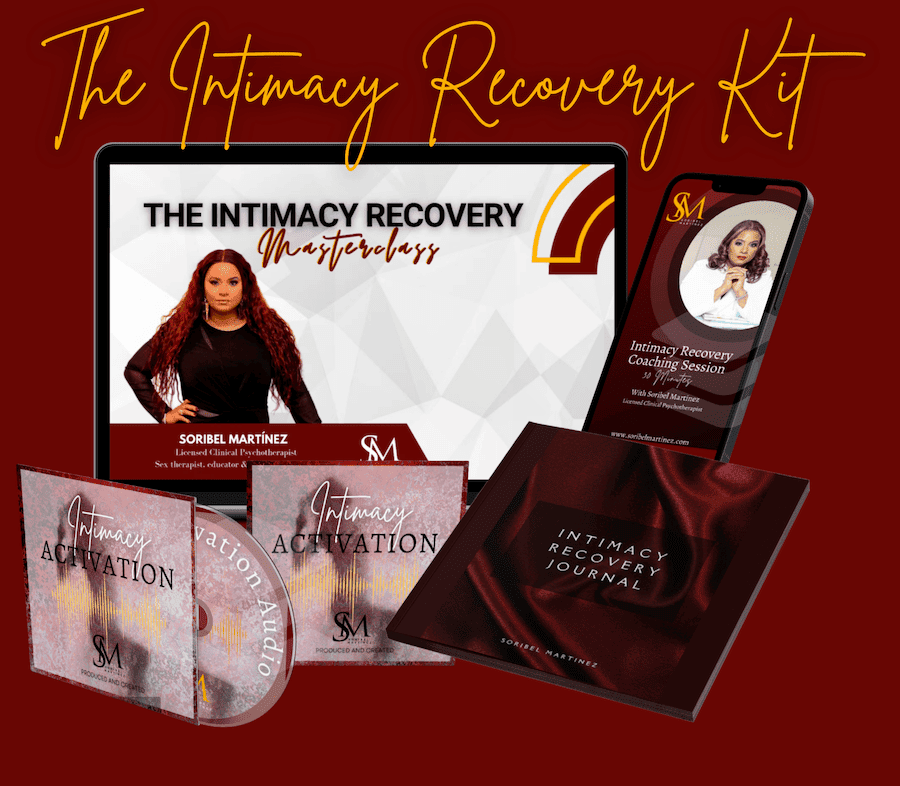 The kit is valued at a total of $856
You get it for only $700
The kit includes a coaching session, The Intimacy Recovery Masterclass, The Intimacy Recovery Journal, and the Intimacy Activation Audio.
All for only $700.