Visions Boards
A vision board is a creative and inspiring tool used to visualize and manifest goals and aspirations. It is a collage of images, words, and affirmations that represent your desires and dreams. The concept of a vision board is to help you stay focused on your goals, remind you of what you want to achieve, and motivate you to take action toward making them a reality.
To reach your potential in life and in business, it is crucial to stay focused on your dreams as you become your best self. I want to support you in this journey of personal development. Therefore, in this blog, we will examine the use of vision boards by exploring the following:
The basics of a vision board
Steps to creating your vision board
The benefits of a vision board
Tips for creating your vision board
Next step for your personal development
The Basics of a Vision Board
A vision board, also known as a mood board, dream board, or goal board, is a fun and inspiring way to develop a personal vision of goal-setting and aspirations. It is a daily reminder to help you clarify your intentions, stay motivated, boost your creativity, overcome obstacles, improve your mental health, and enhance your manifestation power.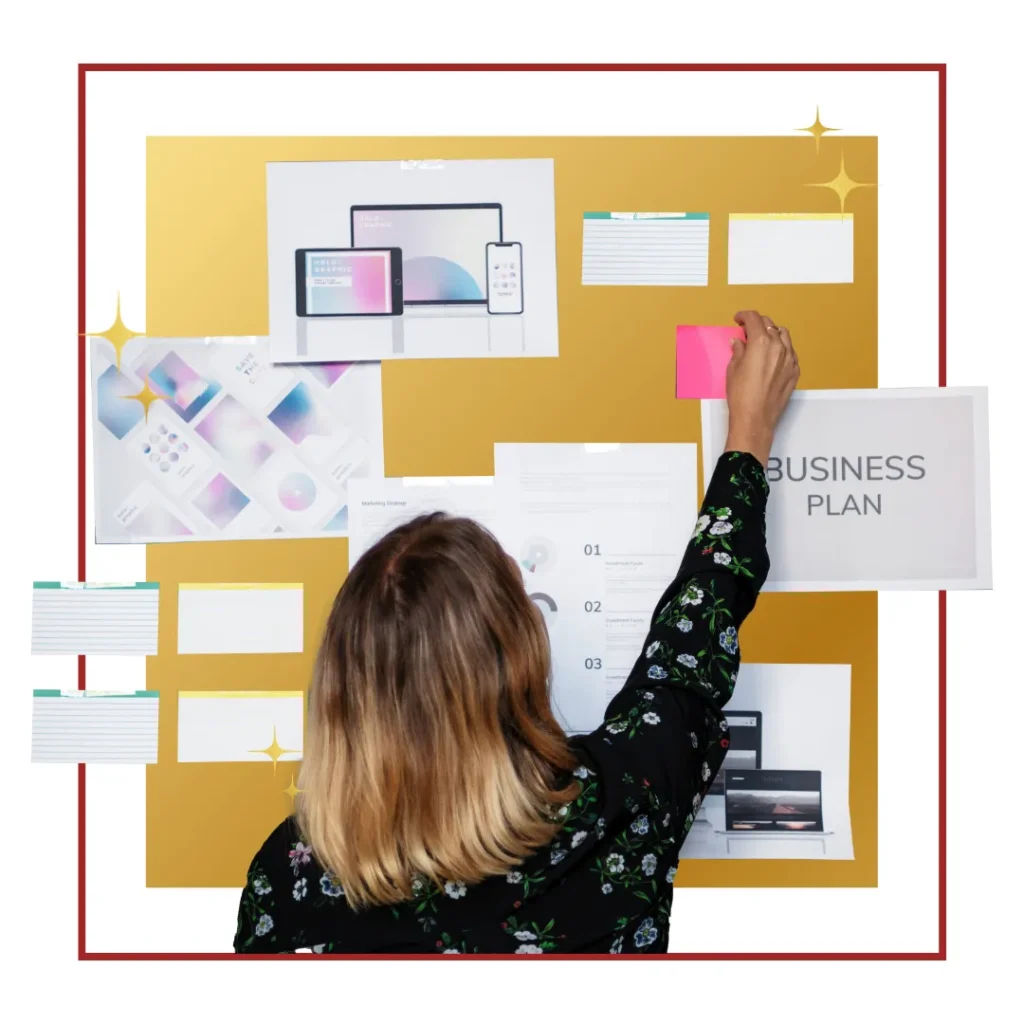 Regardless of your artistic abilities, anyone can undertake and complete a vision board. You can choose a physical vision board or a digital option.
For a hands-on, physical vision board, you need a few basic supplies like a poster board, scissors, glue sticks, pushpins, magazine clippings, stickers, and printouts of pictures that are visual representations of your goals. Choose items that resonate with your dream life.
Another DIY vision board example is to use a scrapbook. Different areas of the scrapbook can represent different aspects of your life. This may include long-term goals, short-term goals, aspirations for the new year, self-care plans, your dream job, and an area for bullet journaling.
The Most Important Thing to Remember About Vision Boards
While it may be tempting to visualize things you want, a better practice is to work toward the person you want to become. If you live life as your best self, acquiring the material things you desire will be a natural part of the process. Yet, to simply acquire things is not living in fullness and purpose. Therefore, focus your vision board ideas on who you are and who you need to become to create the life you want. This is how your dreams come true.
Steps to Creating Your Vision Board
You can start creating your vision board by following these simple steps:
Step 1: Set your intentions
Before creating your vision board, take a few minutes to reflect on your goals and intentions. What do you want to achieve in the next few months or years? What areas of your life do you want to improve, such as relationships, career, health, or personal growth? Write down your intentions in a journal or on a piece of paper.
Step 2: Collect visual materials
If you are using the physical model as your vision board template, gather magazines, newspapers, and printouts of pictures that inspire you and align with your goals. Look for images that represent your desires and aspirations, such as a successful career, a happy relationship, or a healthy body. You can also include quotes, affirmations, and positive words that resonate with you.
Step 3: Create your vision board
Choose a poster board or a cork board as the base for your vision board. Cut out the images and words you have collected and arrange them on the board in a way that feels inspiring and harmonious. You can attach the images to the board using glue, tape, or pins. Make sure to leave some space for additional materials that you might want to add later.
Step 4: Display and visualize
Once you have completed your vision board, display it in a prominent place where you can easily see it. You can hang it on a bedroom wall or place it on the desk of your home office. Spend a few minutes every day looking at your visual reminder and see yourself achieving your goals. Feel the emotions of having already achieved your desires and let them fill you with positive energy and motivation.
The Benefits of a Vision Board in Your Mental Health Private Practice
Creating a vision board has several benefits that can help you achieve your goals, improve your life, and increase your well-being. Here are some of the benefits of a vision board.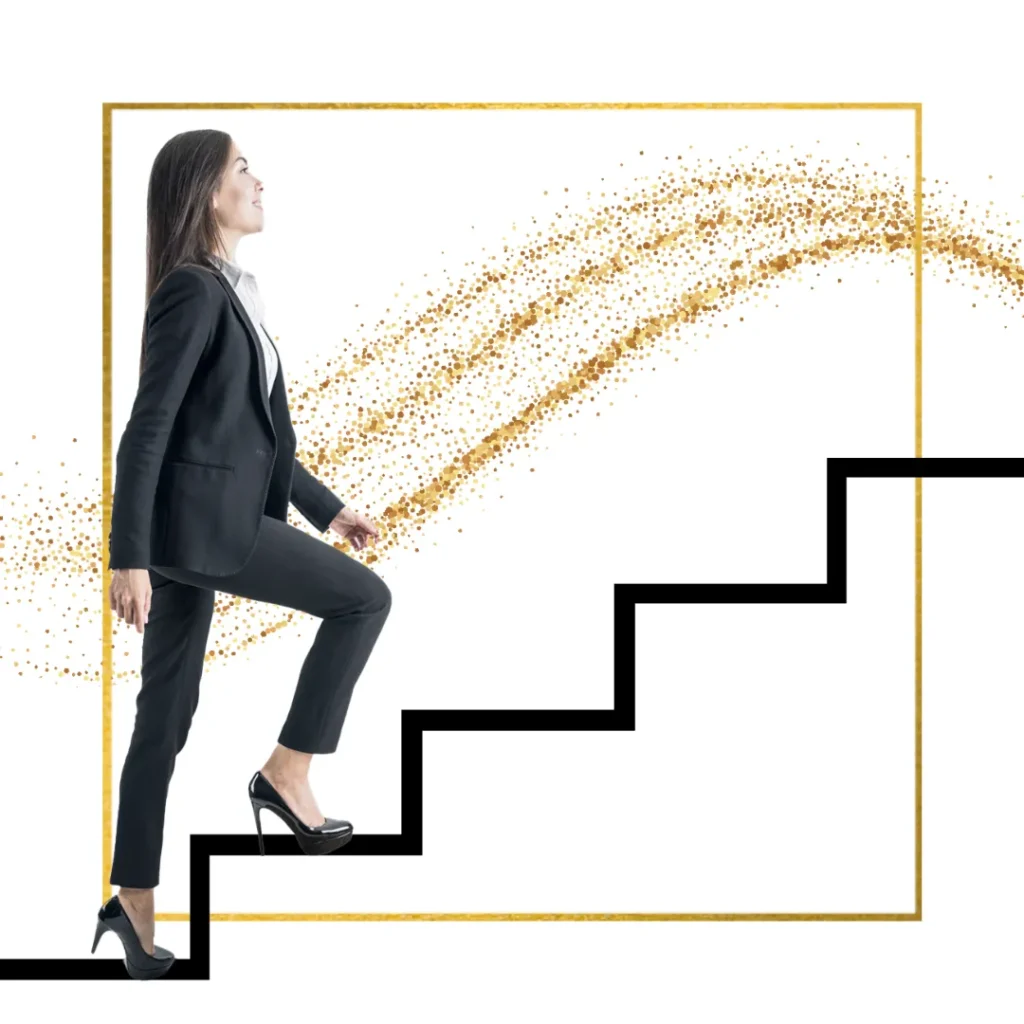 It helps you clarify your goals and intentions. By reflecting on what you want to achieve and selecting images and words that represent your desires, you are setting a clear message in your mind about what you want to manifest in your life.
It motivates you to take action. When you create a vision board, you are visualizing your goals and setting yourself up for action. By looking at your vision board daily, you are reminding yourself of what you want to achieve and what steps you need to take to make it happen. This can help you stay motivated and focused on your goals.
It boosts your creativity and imagination. A vision board is a creative process that requires you to tap into your imagination and intuition. By selecting images and words that resonate with you, you are opening up to new possibilities and ideas you might not have considered before. This can boost your creativity and inspire you to think outside the box.
It helps you overcome obstacles and challenges. When you create a vision board, you are not only focusing on your goals, but also preparing yourself for potential obstacles and challenges that might come your way. By visualizing yourself overcoming these obstacles and achieving your goals, you are building resilience and confidence in your ability to succeed. This can help you stay motivated and persistent in the face of adversity.
It increases your self-awareness and mindfulness. Creating a vision board is a self-reflective activity that can help you become more aware of your values, beliefs, and aspirations. By examining what you want to achieve and what matters to you, you gain insight into your inner self and become more mindful of your thoughts and emotions.
It enhances your manifestation power. The Law of Attraction states that like attracts like, and by focusing on what you want, you can attract it into your life. By visualizing yourself as having already achieved your goals, you create a positive energy that can draw your desires towards you.
Tips for Creating a Successful Vision Board for Your Group Therapy Practice
To make the most of your vision board, here are some tips to keep in mind.
Be specific and realistic about your goals. When selecting images and words for your vision board, make sure they represent specific and realistic goals that you can achieve. Avoid vague or unrealistic goals that might discourage or overwhelm you.
Choose images and words that resonate with you. Your vision board should reflect your personal preferences and style. Choose images and words that make you feel inspired and motivated.
Use positive language and affirmations. When selecting words for your vision board, use positive and empowering language. Use affirmations that reflect your desired state of being and help you focus on your goals.
Review and update your vision board regularly. Your goals and aspirations might change over time. It's important to review and update your vision board accordingly. Add new images and words that align with your current goals, and remove any outdated materials.
Take action towards your goals. Creating a vision board is a powerful tool, but it is not enough. To achieve your goals, you need to take action toward them. Use your vision board as a source of motivation and inspiration, and take daily steps toward making your dreams a reality.